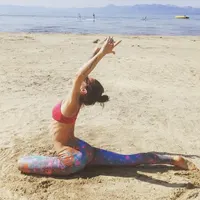 Lake Tahoe Wellness Center Studio
Lake Tahoe Wellness Center Studio resides in a passive-solar building, set in a dynamic setting in the heart of North Shore Lake Tahoe. With several studio spaces that provide an ability to really connect to your teacher and your practice, classes at the Lake Tahoe Wellness Center are suitable for all-levels of students, regardless of your physical fitness or flexibility level. In addition to our yoga mat classes, we are the only studio in California on the north shore of Lake Tahoe that offers Aerial Yoga classes. In addition, our facility also offers Chiropractic, Acupuncture and Massage Therapy services in addition to our Yoga and Aerial Yoga Programs.
We pride ourselves on offering our community a variety of classes and styles to help shape well-rounded students and Wellness Center members. We look forward to connecting with you! Check out our Class Schedule HERE!
The BENEFITS of yoga and our movement classes are abundant, including:
Increased Flexibility
Strength Building
Deep Breathing
Internal Cleansing
Weight Loss
Chronic Pain Relief
Healing of Injuries
Improved Circulation
Stress Management
Mental Clarity
---
PRIVATE LESSONS
$100 for individual private
Group Privates contact for pricing
To schedule a yoga private please contact the front desk or Charlotte Peters 500 RYT directly at (949)546-5538.
Private instruction and personal training sessions are available for you at Lake Tahoe Wellness Center 7 days a week! Please inquire with our Front Office to set up your first session with a certified and trained instructor, eager to help you reach your fitness and wellness goals!
Please fill out and e-mail or print and bring this liability-waiver-and-release-form.pdf.